MRV is a recently created legislation by the European Council that has the goal of implementing restrictions to Green House Gases (GHG) emissions to maritime means of transportation, specifically CO2, considered the most hazardous gas among them.
Its target obligates shipowners to monitor, report and verify CO2 emissions, fuel consumptions and transport work of ships.
According to the Regulation, companies for each ship must fulfill the following deadlines: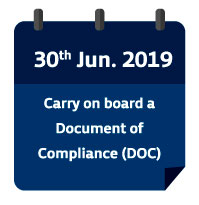 MRV will be applied to big polluants namely, ships with 5000 GT (Gross Tonnage) or higher, ships for commercial purposes (carrying passengers or cargo), regardless of the flag or country of the shipowner.
The Regulation allows the parties involved in the operation of each ship to determine, who assumes the MRV monitoring and reporting obligations.
However there are ships exempted:
Warships;

Naval auxiliaries;

Fish-catching or fish-processing ships:

Wooden ships of a primitive build;

Ships not propelled by mechanical means;

Government ships used for non-commercial purpose;

Dredging;

Ice-breaking;

Pipe laying;

Offshore installation activities.
PENALTIES

There are strict penalties in case of non-compliance.
Those penalties should be effective, proportionate and dissuasive. The penalties are defined by each Member State. It is appropriate to provide the possibility of expulsion for ships that failed to comply for two or more consecutive reporting periods with monitoring and reporting requirements.
SHIPOWNER'S OBLIGATIONS
Provide certifications of flowmeters and emissions source;

Provide procedures and calculations;

Provide monitoring methodologies for each emission source;

Have its Emissions Report independently verified;

Carry on board a Document of Compliance (DOC);

Provide to the verifiers emissions data (fuel consumption, GHG, energy efficiency) and ships activity data (distance, cargo, time spent at sea);

Develop a monitoring plan (per voyage and annual) which must be submitted to an independent accredited verifier (until 31st August 2017 for assessment and completed before 31st December 2017).
VERIFIER'S ROLE
Define sampling plan, the nature and extension of its activities;

The verifier must be impartial, independent, capable and accredited;

Check the client's monitoring plan, assuring its content and requirements according to regulations;

Identify and evaluate the risks related to the monitoring activity (inherent, calculations, control and detections);

Assess the emissions report, verify data credibility and compare estimations based on the ship location data and its features on-board.
HOW CAN TECNOVERITAS HELP YOU?
TecnoVeritas can help you with on of the two service related to MRV: