Hydrogen: the upcoming solution
Greener and Environment-friendly Energy Resources
As it has been seen on shore, shipping companies are starting to look for greener alternatives and environmentally friendly types of fuel such as LPG (Liquefied Petroleum Gas), Liquefied Natural Gas (LNG), Ethanol or Hydrogen.
Some possible causes for this demand are related to the continuously rising fuel costs, the costs associated to pollution and treatment of pollutants emitted by these fuel types (exhaust gases or slop oil treatment), the regulations on voyage and port emissions, and costs associated to equipment maintenance. Growing global energy demand has increased the cost of fossil fuels and thus the resulting volume of harmful Greenhouse Gases (GHG). To reduce pollution and minimize dependency on fossil fuels for energy generation, alternative and clean sources of energy need to be exploited.
The solution and the process of obtaining Hydrogen with Renewable Energy Sources
In 2010, total global new investment in clean energy had tripled from only five years before [1], indicating an aggressive search for new, clean and renewable energy sources, such as hydrogen. When it comes to using hydrogen as a fuel source, it can either be used in a Fuel Cell or burned directly in an internal combustion engine. High-quality hydrogen (100% hydrogen) can be produced by the electrochemical conversion of water to hydrogen and oxygen through a process known as water electrolysis (EQ.1).
Over the past decades, the ever increasing price of electricity has hindered and/or postponed the production of electrolytic hydrogen. This is about to change with the recent growth in energy capacity based on renewable sources like photovoltaics or wind turbines. In this scenario, electrolytic hydrogen cannot only be produced from a renewable energy source, work as an energy carrier, and work as an energy storage medium, but also overcome the intermittency of typical renewable energy resources. In Figure 1 it is indicated a possible scheme of how hydrogen could be produced and stored to be applied:
Figure 1- Hydrogen Production, compression and storage.
Water Purification: Water can be captured from sea and treated/purified to remove salts and ions (passing through a sand filter followed by osmosis and electrodeonization).
Electrolyses: Resourcing to a turbine (using the energy from wind) it is possible to provide the necessary electricity for the electrolysis.
3/4 – Compression and Storage: The produced Hydrogen needs to be compressed at high pressure values (700 bar) to reduce its actual volume, being stored in a module-base tank to be used as fuel.
The main safety aspects are thus related to the use and storage of hydrogen on a vessel. An alternative would be to resource to PEM (Proton Exchange Membrane) fuel cells.
The PEM fuel cell is a mature technology that has been successfully used both in marine and other industry applications. The operation requires pure hydrogen, and the operating temperature is reduced. Energy conversion with a PEM fuel cell, from hydrogen to electricity, essentially results in water with a low operating temperature. The modules currently have the power of up to 120kW, and the physical dimensions are small, which is positive for applications in transport, which may be remarkably interesting for marine use. PEM H2 fuel cells also have a higher efficiency and perform better at partial loads than diesel generators.
The use of hydrogen-powered fuel cells for ship propulsion is still at an early design/trial phase with applications in smaller passenger ships, ferries or recreational craft. However, due the potential shown it is believed that in a near future it might be possible to resort to and apply hydrogen to large merchant vessels. Some countries – such as Norway – intend to start using Hydrogen, going further then the IMO's initial strategy on GHG. Ola Elvestuen, Norway's Minister of Climate and Environment at the GCAS shipping event [2] stated that the country intends to achieve zero emissions as soon as possible by using hydrogen and autonomous shipping. This is the path towards decarbonisation.
Figure 2- Comparison of Efficiency of H2 fuel cell and diesel generators Source: Maritime Application of Hydrogen Fuel Cell Demonstration Project at Young Brothers, Limited
Cases of Success
There are some cases of success in using hydrogen in shipping. One case in particular that recently crossed the Tagus River in Lisbon was the catamaran Energy Observer [3], an hydrogen-only vessel. It corresponds to an old competition vessel, which was equipped with solar panels, wind generators and hydrogen fuel tanks. The production of hydrogen will be done through the process of electrolysis (energy induction) of sea water.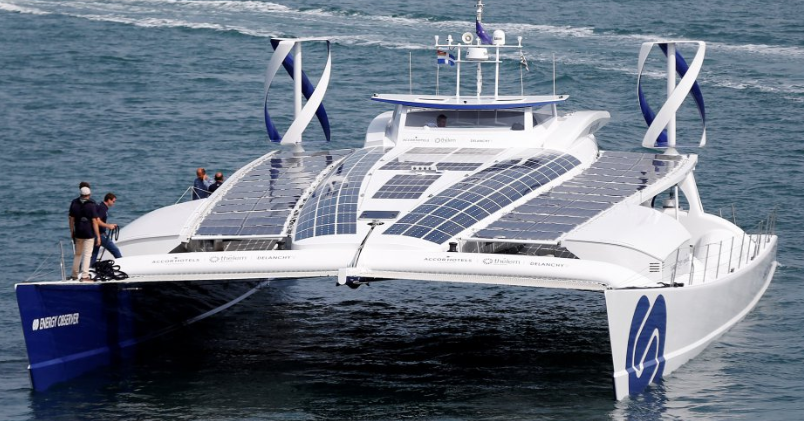 Figure 3 – Energy Observer's outline (left and center image) and Hydroville (on right).
From Belgium comes another case of success, the Hydroville [4]. This vessel is responsible for transporting people from Kruibeke to Antwerp during rush hour to avoid traffic jams. It was the first certified passenger shuttle using hydrogen to power a diesel engine having the advantage of not releasing any CO2, particulate matter or sulphur oxides when burned. Recently,  a partnership between DNV GL, Scripps Institution of Oceanography, the naval architect firm Glosten and the Sandia National Laboratories was also mentioned to assess the technical regulations and economic feasibility of a hydrogen fuel-cell coastal research vessel [5]. Besides, not having impact in contaminating air or water (it is impossible to have a polluting hydrogen spill on the water since hydrogen rises on its own and escapes into the atmosphere) it makes almost no noise so it won't upset marine ecosystems.
By the reasons mentioned above and by witnessing some prototypes and vessels already tested we can assume that the application of Hydrogen in maritime applications, as an alternative to more classic fuels will certainly be a disruptive technology that shall have a significant and successful impact in the near future.