The successful Environmental Revamping of "M/S Vasco da Gama"
Vasco da Gama is a cruise ship owned by the Portuguese company Mystic Invest. The vessel was completed in 1993, previously she sailed for Holland America Line as MS "Statendam", for P&O Cruises Australia as MS "Pacific Eden" and for Cruise & Maritime Voyages as MS "Vasco da Gama".
In 2020, following CMV's filing for administration, she was sold by CW Kellock & Co Ltd. at auction to Mystic Cruises parent company of Mystic Invest for US$10,187,000.
Mystic Ocean invested in the vessel, either in the environmental and energy increased performances and digitalization, making this project a fantastic Circular Economy example applied to the shipping industry. Giving a new life instead of scrapping, the vessel will be reused again for one or more decades. The vessel was updated to the most stringent international rules, it was refurbished to the highest comfort available on the market, therefore exceeding its glamour.
Fig. 01 – The sea minister and general director, the shipowner Mr Mário Ferreira, the TecnoVeritas CEO and the Lisnave Port of Administration.
This ambitious project was initiated in January, when she was docked in January 2021 at LISNAVE Shipyards in Portugal.
One of the ship's areas that needed more careful attention was her propulsion system. The five Diesel generators (3xSULZER ZA 8L 40S and 2xSULZER ZA 12V 40S) engines needed to be "environmentally friendly", but attention was also paid to the propulsion system cyclo converters – ABB Stromberg driving two electric motors of 12 MW.
Mystic Cruises contracted TecnoVeritas for the environmental update in February 2021, to install five SCR (Selective Catalytic Reactor) systems one for each engine to reach emissions levels below TIER III (designed by TecnoVeritas and H+H) therefore ensuring exhaust gas emissions treatment in any of her operation mode.
Fig. 02 – Portuguese Minister of the Sea, Ricardo Santos, and Dr Jorge Antunes, TecnoVeritas' CEO.
As a shipowner decision to end HFO (Heavy Fuel Oil) operation, the vessel was also converted to a uni-fuel operation based on MGO, even in open seas.
This extremely ambitious project was not only technically difficult but also time difficult. In only one month, the vessel revamping project was developed, and in less than two months it was implemented onboard. Extensive fluid flow simulations were carried by the TecnoVeritas' engineering team to define the optimised solutions to implement.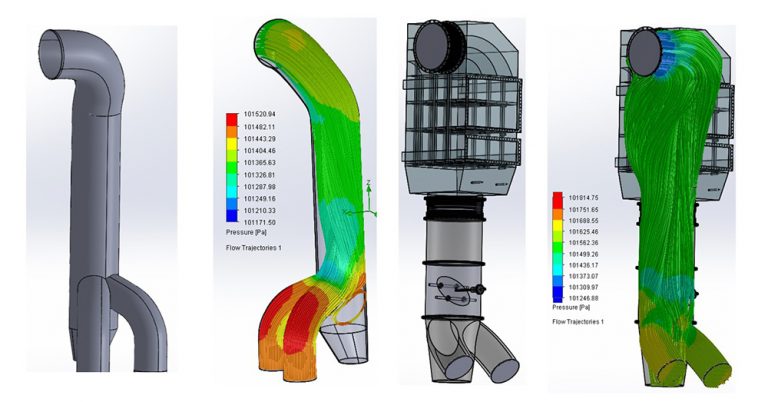 Fig. 03 – Exhaust flow simulations.
The catalysts weighing about 5 tonnes each were installed in record time, due to a highly engaged engineering team and quality management and carefully detailed engineering the project is a success. While the engine room was dismantled to gain space to accommodate the new catalyst housings with more than 5 m long, the five engines were overhauled receiving components according to NOx Code.
Fig. 04/05 – The installation of the SCR system on Vasco da Gama.
Operation performance, through digitalization, was also deployed by TecnoVeritas, connecting the vessel to shore through the BOEM cloud platform. BOEM allows the real-time monitoring of all ship operational parameters, including engine emissions.
A new sewage treatment plant with a capacity of 650 m3/day, was also installed. This is approved for Baltic Sea operation, therefore compliant with MEPC.227(65) including section 4.2 nitrogen and phosphorus removal standard.
Back in 2006, TecnoVeritas initiated the research on the exhaust gas emissions control systems, developing until now, 13 projects of SCR Selective Catalytic Reactors (using its own technology based on V2O5 and TiO2 deposition on metal and ceramic supports, this time as partnered with H+H of Germany, who delivered the housings and urea dosing systems in a record time)  and Emulsified fuels. This project would not be possible if it wasn't the fearless and environmental conscience of the "Vasco da Gama" shipowner (Mr Mário Ferreira). The vessel's future is bright, as any brand-new vessel, as it is complying well with TIER III limits, therefore allowing the vessel to visit the most touristic destinations, like the Heritage Fjords of Norway.
The M/S "Vasco da Gama" is back into service, for her inaugural cruise with a departure on the 14th July from Kiel, as one of the greenest cruise vessels in the world. From this project, one can say, that there other alternatives to scrapping, in particular for singular vessels with a special clientele, therefore making cruising a sustainable industry. It is required a strong shipowner view and interpretation of the environmental impacts and needs to make the cruising industry cleaner.
If you are interested in our SCR system, please, contact us.
Figs. 06/07/08 – The SCR software.